~The HOPE Bracelet Project~
Beads making a difference

for Project Mercy.......


in Yetebon, Ethiopia....... and the World!
HOPE Bracelets:
Helping Organizations Promote Education
Overview
The HOPE Bracelet Project is collecting beads and jewelry making supplies, and then teaching students at the Medhane-Alem School in Yetebon, Ethiopia to create limited edition, beautiful bracelets.




We are proud to report that, thanks to the generosity of "bead people" all over the US, we were able to collect beads, create and sell 500 bracelets in 2003, raising $50,000 for Project Mercy!
Since then, the team at Project Mercy has produced 500-1,000 bracelets each year and we have been able to raise $50,000-$100,000 annually for this wonderful cause. Here are the listings of our donors by year:
2003
2004
2005
200
6
2007
If you're a regular visitor, YES, we're going to do it again .....
..... and we're still "begging for beads" :)
Keep those beads flying in! Every donation helps.
To make Monetary Contributions...............
make checks payable to The Cunningham Foundation.

Checks should be mailed to:


The Cunningham Foundation-
HOPE Bracelet Project
10795 E Powers Drive
Englewood, CO 80111

100% of your donation
will go to the HOPE Bracelet Project!

A full retail-value tax deduction letter
will be given for each donation.

Questions? contact Tammy Cunningham, Tzheart@aol.com, 303-877-7072






Each HOPE Bracelet features a sterling silver clasp created for HOPE by Colorado jeweler Michelene Berkey.
Note the tiny dove on it!

Each bracelet also includes a sterling "HOPE" bead
designed for us by Robert Burkett and denotes the year the bracelet was sold.
It is just above the clasp in the bracelet above





The HOPE Bracelet Project is designed to share the talents and resources of a group of motivated volunteers in America with the people of Ethiopia through donations of beads and supplies to the Project Mercy organization. Our project will help "teach them to fish" by teaching them to create beads and bead jewelry, and will create an ongoing source of new skills, revenue and pride in their craft. The jewelry will be made by students working and studying at Project Mercy. We will sell the bracelets in the US and return all revenues to Project Mercy and these groundbreaking participants.


Making bracelets
and BEADS at Project Mercy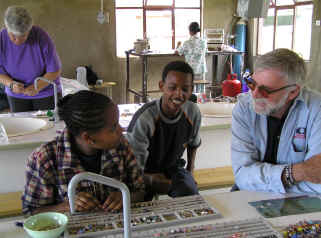 We're in great need of: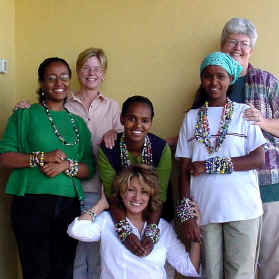 *

Lampwork focal beads-Think BRACELETS....
..small or flattened...comfortable to wear!


(Black and white or black and ivory are very sought after
every year if you'd like some input...
yellow is most difficult to sell, it seems)

*

Sterling

silver feature and accent beads



*

Glass "filler"

beads

- bracelet-sized, please






*

Cash donations for gift bags, shipping, travel expenses
for volunteers & printing of the Project brochure.
Print a donation form



Product Sales for Fundraising
From the beginning of the HOPE Bracelet Project in 2003, each new batch of bracelets has been "unveiled" at a reception at STRINGS Restaurant in November. MANY thanks to TRICE JEWELERS in Denver, CO for generously marketing the bracelets each year....from mid-November until the last one is sold...... returning all proceeds to Project Mercy.


PHASE II- Creating Beads in Ethiopia
Thanks to the most-generous donation of a complete lampworking setup, several budding beadmakers are melting glass at Project Mercy!
Arrow Springs Frantz Art Glass

and Glasscraft
have truly outdone themselves this time in donating this valuable equipment!! Beginning beadmaking classes began during our October, 2004 trip to Yetebon and

the studio was expanded to 4 torches in October, 2006. Three beadmaking instructors were available for over 3 weeks and we trained 6 students to make beads, heart shapes in particular.

It is our hope that a new industry will be created and the Project Mercy beads will be marketed

in America and

locally, creating more income opportunities for the residents of Yetebon.
We believe once the seeds are planted and the first round of funds are raised, the project (and the African artists) will take on its own path.

Indeed....it's already happening! See this amazing movie taken in the beadmaking studio at Project in 2007..

HOPE Heart Beads from Brent Weaver on Vimeo.
Movie of Marta making a bead! Long download, but NICE!
Gete is looking on and Cindy is offering advice. Thanks, Rita, for the wonderful "action" shot!
Why Project Mercy?
Local Denver community leaders Tammy and Noel Cunningham have spent the last 6 years supporting Project Mercy via their community fundraising and personal donations. They have visited Yetebon and know the school founder Marta Gabre-Tsadick, herself a community leader forced to flee Africa to escape the Communist takeover. Marta and her husband, Deme, have returned to Africa and have dedicated their lives to helping the African people. Since the school provides education for grades Kindergarten through 11th grade, it is the hub for The Yetebon Project. It also offers vocational and skills enhancement programs for adult men and women to teach them marketable skills, thus raising the quality of life for their whole community.
Tammy and Noel have joined a network of Americans, using our talents to support their efforts.
How Can I Help?
Jump on our action team and help us continue this project! Donate supplies to the 2009 edition of 1,000 bracelets. Help us craft the idea. Make a commitment to help us connect the bead community to this opportunity to make a HUGE difference in Yetebon, Ethiopia. We look forward to sharing the adventure!
For more information contact project volunteers:
Tammy Cunningham, Tzheart@aol.com, 303-877-7072
Cindy Brown, cindy@cindybeads.com, 303-423-1616
Devon Billings, devon9050@aol.com

YOU can also help by THANKING and BUYING
from those who donated!

2003 2004 2005
Donating Supplies:
Please fill out the donation form and ship with your donation to:
The HOPE Bracelet Project
c/o Tammy Cunningham
10795 E. Powers Dr. Thanks for your bead donations!
Englewood, CO 80111
All donations received will be included in continuing the project indefinitely, so keep those beads coming! Monetary donations will also be helpful to defray shipping costs to Ethiopia, airfare for volunteer trainers, printing and purchasing additional items we are unable to locate from donations. Upon receipt of your donation, an official tax donation letter will be sent by The Cunningham Foundation with their 501 (c) (3) tax ID information.
For more information about Project Mercy, please visit
their website at www.projectmercy.org.



Thank you in advance for your help!

Project Mercy and the Cunningham Foundation
are 501-C-3 organizations
All donations are tax-deductible

To make monetary contributions,
make checks payable to The Cunningham Foundation.

Checks should be mailed to:
The Cunningham Foundation (HOPE)
10795 E Powers Drive
Englewood, CO 80111
When do YOUR BEADS make a WORLD of DIFFERENCE?............
When they are part of the HOPE Bracelet Project!




In working to make the world
a better place, everyone has
a piece of the puzzle.
Your own strengths that can be shared


Here's the one I created for myself....a fun exercise -->


Visits Since November, 2004